---
For the last few months, we were hard at work at our first demo that would showcase what we want the game to be like. As they say, creative work is never finished, merely abandoned and the same can be said about the current version of our demo. We could be polishing and finetuning it for months, but we think time has come to find out what the audience really thinks. Some of you have already played some versions of the demo at various events, but now we want to see how will people like it without us looking over their shoulders.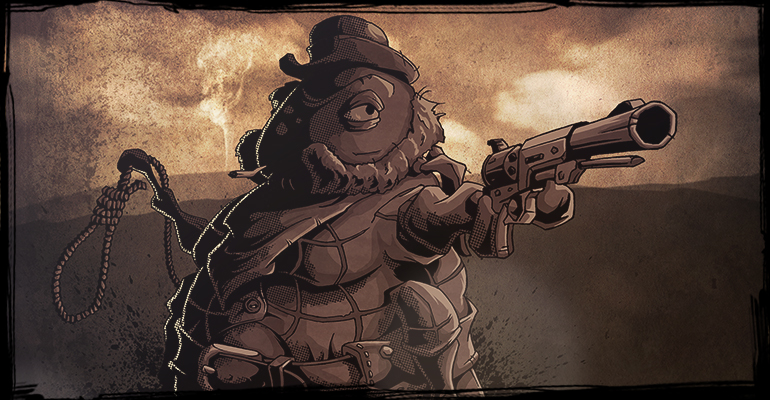 Hunting down Sullivan
The main purpose of the demo is to show to some degree what we want Blood will be Spilled to be. And as it is a game about a mosquito bounty hunter on his quest for personal vendetta we wanted the level to have some narrative connecting the showcase of all the game mechanics together. The level takes place in Rusty Rocks, long-abandoned iron mines that have been reopened under mysterious circumstances. It is also said that a wanted criminal "Fat Face" Sullivan is hiding down in the mines somewhere and rumor has it, that he's not alone there. Jack has a score to settle with Sullivan and getting bounty money for it would surely be a nice bonus. Well… let's see how it all plays out.
Features
Around 15 minutes of gameplay full of gunfights and perils of long-abandoned mines
Completely remodeled AI of the enemies that will make the gunfights even more challenging
Completely hand-drawn graphics with strong comic book-like stylisation
Brand new music track composed by post-jazz band Dajme Tomu
The whole level is completely narrated by amazing voice actor Tim Simmons who will guide you on the whole journey
An option to choose from 3 different skills that you can use to send your enemies to meet their maker
The demo uses Unity analytics so you will provide us with valuable feedback data just by playing our game (for this part, you need an internet connection and also probably to make an exception in your firewalls)*
* We don't collect any personal information, only gameplay data, and won't use it for any other purpose or disclose it to any third parties.
Download the demo
If you like what you read and would like to try it out for yourself visit our website and download the demo. And let us know how you like it (especially if you don't).