---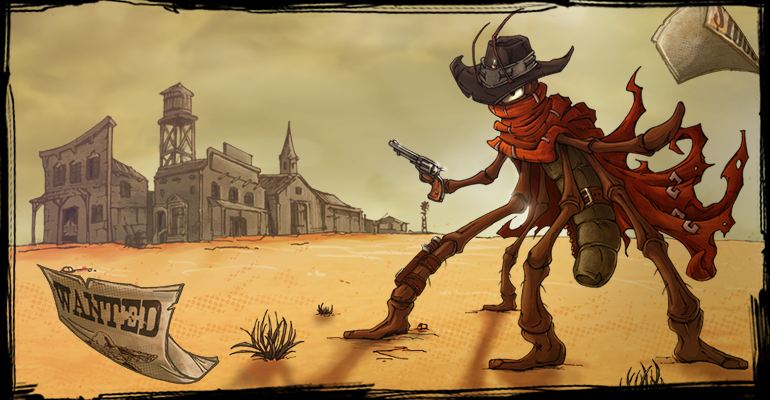 ---
Some of you maybe don't know us, so we'd like to introduce you the game we're working on. Blood will be Spilled is a spaghetti western-themed 2D action platformer taking place in a world inhabited by insects. You follow the story of Jack, a mosquito gunslinger, on his quest for revenge. We took inspiration from games we love, like Shank, Rayman Legends or Guacamelee! and also from movies by Sergio Leone, Quentin Tarantino or Robert Rodriguez. It is our first game and we are still quite early in development.
Features:
Experience action-packed shootouts, hunt down criminals and collect bounties
Choose your own playstyle: Pick from three different skill sets (Good, Bad and Ugly) the one that suits your playstyle the best
Show off your finesse with the gun by performing gun tricks to prolong your kill chain and increase your score
Take advantage of Jack's ability to suck blood from his enemies to fuel some of his more powerful skills
Hand-drawn comic-book style illustrations to reinforce the graphic novel feeling of the story
Original score recorded by award-winning post-jazz band Dajme Tomu
A fresh and modern take on "revenge western" genre
In november 2014, we released our reveal teaser trailer that debuted on Game Developers Session in Prague, Czech republic. In January 2015 we've shown our first playable prototype on Central European Game Conference in Vienna, Austria during it's Indie Expo. Right now we are working on the development of our first public playable demo that should serve as a proof of concept of our major features and target game mood/atmosphere.
If you like our game, or have any feedback, please let us know. We have still quite a long road before us. If you want to see how this story of blood, bounties, revenge and chitin plays out, be sure to follow out progress on facebook, twitter or visit our website.